Lastours
Lastours is a tiny village 14km north of Carcassonne, in the deep valley of the Orbiel river, on the southern flank of the Black Mountain (Montagne Noire).
A pretty place in its own right, Lastours is best known for the four Medieval castles on the mountain ridge beside the village, and for its history in the Visigoth-Francs wars and the anti-Cathar crusades.
The four castles of Lastours were built in the 12th and 13th centuries by the Lords of Cabaret, and were named then the Tours of Cabaret, shortened now to "the towers", or Lastours.
No trip to Carcassonne or the surrounding Aude would be complete without a couple of outings into the wild and breathtaking countryside to take in the mystical Cathar castles or the magical caves of the region.
Fine examples of both can be found at Lastours a short drive from Carcassonne.
The four sister towers of the Chateaux de Lastours perched on a rocky spur above the village is a must see for anyone interested in the Cathar heritage of the Aude and the nearby grotte de Limousis, one of the largest developed caves in the Aude, has some spectacular aragonite formations for those who like their adventures underground.
A panoramic image of the village
An article about Carcassonne and Lastours in The Independent
Languedoc out of season

Les Châteaux de Lastours
The four castles dominate the skyline of the village and the surrounding area and bring thousands of visitors to the village every year.
Some links to information about the castles
www.chateauxdelastours.fr
www.catharcastles.info
www.les4chateaux-lastours.lwdsoftware.net
www.belcaire-pyrenees.com
www.wikipedia.org
www.tripadvisor.co.uk

Restaurants and Cafés
Le Puits du Trésor
A Michelin star restaurant with bistro and traiteaur
www.lepuitsdutresor.fr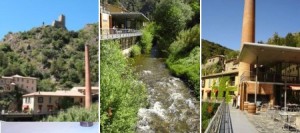 Le Moulin de Lastours
A café and boulangerie
Facebook
www.leguideduflaneur.com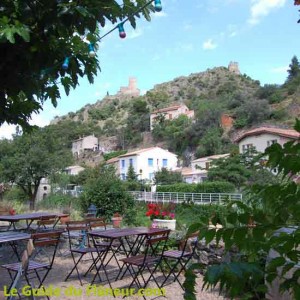 Auberge de l'Orbiel
Family run restaurant
Tripadvisor reviews